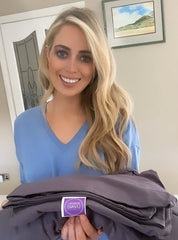 WHY SHOP WITH US?
OT-ABC was founded by Occupational therapist, Aoife Costello, who has a keen interest in child and adult development. Every product is hand picked, trialled and tested and meets a high standard.We sell a range of children's educational, sensory and motor skill toys; adult therapeutic products, and overall; products that provide a wide range of benefits. These products provide functional skills that have therapeutic benefits for children and adults of all abilities.
The balance boards and suckers have been such incredible hits in my house. Not only was the delivery super fast, Aoife was so helpful in identifying what would be most suitable for my children. Having an expert in the field who also provides the products makes such a difference. I've learnt so much from Aoife and OTABC, forever grateful for the service she provides.

Catherine B
Brilliant quality products will be recommending and will be buying more. Find Aoife so helpful on Instagram, really has made such a difference to our family. Delighted to be able to support someone back.

Mary H.
The suckers!! What a class act of a toy!! Never seen my children play so quietly for so long. Love how motivated they are without having any idea of the benefits of such a brilliant product.

Denise M.
I love Aoife's Facebook and Instagram page. Always so educational and insightful. Products are the exact same, everything I've purchased has been such a massive hit in our house.

Anna R.
Love this store. Amazing quality and such value compared to other stores selling similar. You can tell an expert is behind the store, love love everything about it.

Karen G.
Have to say the customer service has completely exceeded my expectations. I emailed at 2 am and received a response by 7 am. Couldn't recommend this website and products enough.

Marian S.